I Blame Video Games
I am a child of the 80s. Brought up by consumerism, Thatcher and an era of children's cartoons that will never again be achieved. The first music I bought with my own money was Jive Bunny. The first movie I saw in the cinema was Santa Claus:The Movie with Dudley Moore. We missed half of the film and just stayed for the next showing and left when we had caught up. Imagine trying that now? I was a little too young for the World Cup in Mexico '86 and I didn't realise that there even was a Euro '88 until I saw van Basten's ridiculous volley on the news (what a foolish 7 year old I was, fixated upon Optimus Prime rather than van Basten, Gullit and Rijkaard).
It was left to the 90s to awaken me to football. And a great many other things. The decade ended 17 years ago and while the generation of my parents feel nostalgia for vinyl records, cinema double bills (or even triples) and space dust my generation feel nostalgia for a Sony Discman, VHS and video games.
A few days ago a friend sent me a link for old video games that are now available to play for free. I skimmed through the sports games and discovered something of vital importance.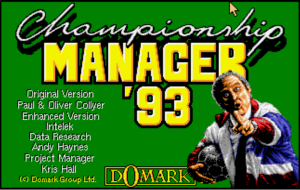 Most football fans are aware of the Football Manager series but this is where it started. Certainly for me. There was not wall to wall football on television. The average fan relied on Match of The Day on Saturday night, Gazetta Football Italia on Sunday morning and matches that their mates had taped onto VHS from Sky Sports. Or BSkyB.
That was Sunday afternoon, with James Richardson and Joe Jordan (or Ray Wilkins or Luther Blissett or Liam Brady or….) and a host of questionable adverts. We all loved it. Apart from our mothers who wanted to watch the Eastenders Omnibus.
European football was a mystery. Only the truly dedicated had any knowledge of it. Those with the patience to get through all the random pass times posing as sports on Trans World Sport just for a glimpse of a little football.
(Nailed it on Clarence)
Those who poured over World Soccer Magazine or stayed up extremely late on a weeknight to watch the highlights from a strange new competition called the Champions League. Or those with access to video games.
This was where learning happened. Not physically. My physical football education came outside the house, using our front gate as a target, swerving in shots with the outside of my right foot and annoying the neighbours with the constant clatter. No it was the mental process. I learned about formations, playing styles and the attributes required for each position. Especially when playing the Italian version.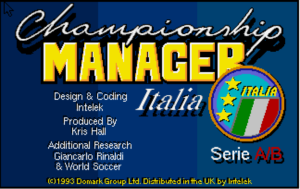 Sheer heaven. The combination of a video game (or far more accurately for the time, computer game), football, and a huge roster of exotic players dazzled my young mind.
I could see that to be a leader like the great Franco Baresi I needed to be able to tackle and influence others.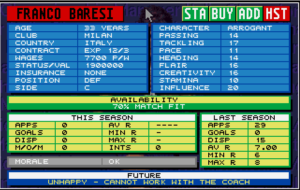 To run the midfield like Enzo Scifo I needed to have great creativity and passing ability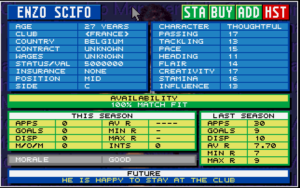 To be the best player in the world I had to have outstanding attacking attributes.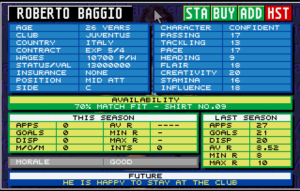 Looking at the list of players available brought the memories flooding back. Not so much of Championship Manager itself but of the way I viewed football at the time. VHS was vital. I was lucky enough to have friends whose family had invested in Sky television. We did not have Sky Sports, so insignificant matches like QPR 0 Liverpool 1 would be watched and watched and watched again until the next one arrived. The Barnes pass for McManaman's disallowed goal is embossed upon my memory.
It wasn't really those videos that educated and inspired me. It was mighty VHS titles like "World's Greatest Goals", "Lightning Strikes", the marathon "502 Great Goals" and the double VHS epic that was "25 Years Of Match Of The Day". The Match of The Day video heavily featured Goal of the Season, which will always and forever be linked to The Lightning Seeds and Life Of Riley. Nothing guarantees a smile from me like the association between that music and magnificent goals. And Matt Le Tissier.
Back to the wonder of Championship Manager. It really was wonder. To see the names. At the time they were exotic. Now they are a list of bona fide legends or semi forgotten greats.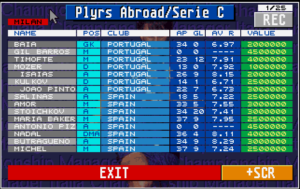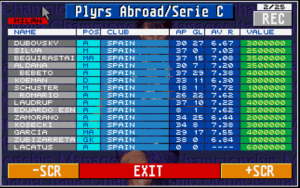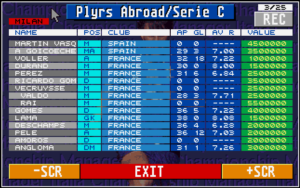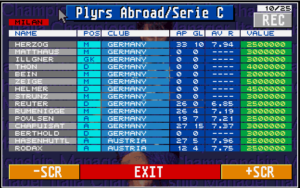 Julio Salinas! Hristo Stoichkov! Emilio Butragueno! Bernd Schuster! Michael Laudrup! Romario! Rai! Rudi Voller! Lothar Matthaus! Bodo Illgner! I could go on. What great players they were. How did I know they were great players? Well, they were more expensive to buy…. That and I had watched them on Gazzetta. Seen them in Champions League highlights. Caught a glimpse of them on Trans World Sport. Watched them score on VHS. I knew what was needed to be like them. I knew what was needed to create a team like them. I had seen the attributes.
Technology, as it was at the time played a huge role in my understanding of football. Those outside of the foot swerved strikes came because I has seen Teofilo Cubillas 1978 free kick against Scotland. I was born in 1980. Video had inspired me. Video games pushed me on further. This is not just nostalgia, this is the wonder of technology. Even the limited tools of the 90s helped develop me as an aspiring young footballer and fill my head with knowledge I still use as a coach. With the plethora of useable technology available today, how can we not be inspired?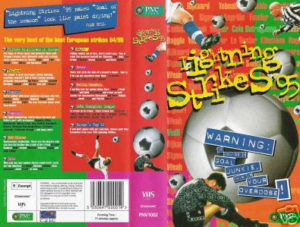 http://playdosgamesonline.com/championship-manager-italia.html